Blog
Subscribe to posts
I (actually all of us) have been so busy preparing for PLAYDATE L.A. that there has been no time to blog about what we have been doing. In the past month, we have secured sponsors, organized swag, worked on resource guides, publicized, and basically run all over southern California. We have been so successful that we had to close registration as we hit our maximum number of attendees. We have set up a wait list and are hoping that we will be able to accommodate everyone.
I am so grateful for my team. Without their help and creative input, this event would not be the success I know it is going to be. 
Three main events contributed to this week's excitement. After researching several possible venues and vacillating between two of them that both had many positives, we decided to hold our event at National University's Los Angeles campus. The freeway-convenient location has ample free parking, enough classrooms for our breakout sessions, and a student lounge area we can use to serve coffee, tea, and whatever food we are able to provide for our attendees. 
We also had a meeting with Bertha Roman, one of the members of the Board of Directors of CUE's Los Angeles affiliate. Bertha contacted us because CUE LA wanted to see how they could support our event. We discussed several options, which Bertha will bring to the rest of the Board for them to evaluate before getting back to us with the response. Whatever support we get from CUE will be very welcome, but what really made this thrilling for me was the fact that this project had gotten the attention of my local CUE affiliate and that they wanted to help me with it. It made me proud to think that the event that I had started with a small group of other organizers had made enough of an impact that CUE L.A. had contacted me; I didn't need to contact them to ask them for assistance. 
Finally, we hit triple digits in the number of attendees. When we we announced the venue on Twitter, we had ten people sign up within twelve hours, and, a few days later, we reached 100. As of this writing, we have 102 people registered to attend. We look forward to reaching our capacity by the time August 17 rolls around. Fingers crossed! 
The organizing team met in a Google Hangout this evening to discuss a number of things, including our need to find the venue. We have three locations which are promising and we hope to have something definitive by the end of next week. Once we have that, we will be able to do more promotion of the event as well as start a serious search for sponsors. It is difficult to ask companies to donate when we don't yet know how much we need. I will be happy when the venue falls into place because I know everything else will follow.
We added to the leadership team this week. Alina Silvestre, a fellow teacher at Chaparral Elementary, and Alice Chen, a Google Certified middle school English teacher with a 1:1 classroom, came on board. They will both add their unique qualities to our mix. I love that we have such a varied team, even though three of us are from the same district. I can already see that we each bring a little something different to the table, and the collaboration is wonderful. We have just enough people to ensure that someone has an idea without having so many people that nothing gets decided.
We opened registration this week, and 50 spots have been filled in just two days. I am both thrilled and terrified. We still need to find a venue, but I am confident that we will find one in the next couple of weeks. There are several feelers out, so we just need to see which ones actually bear fruit (is that a horrible mixed metaphor?). Once we nail down a place, we can establish costs and start looking for sponsors. 
I'm a big fan of tortoises, and seek to imitate their slow and steady pace, although I am often distracted by shiny things on the side of the road. Anyway, things are moving right along here at PLAYDATE LA headquarters (i.e., my house). I have set up an email and
Twitter account
, we have our first followers, our site has been linked to the
main PLAYDATE site
, and people are talking about the event. 
We have narrowed down the date window to be sometime during the first two weeks of August. The thinking is that teachers will be starting to think about going back to school and would appreciated getting some time to experiment with technologies and practices that they will be able to implement from day one. Once we get a venue, we can finalize the date. Stay tuned.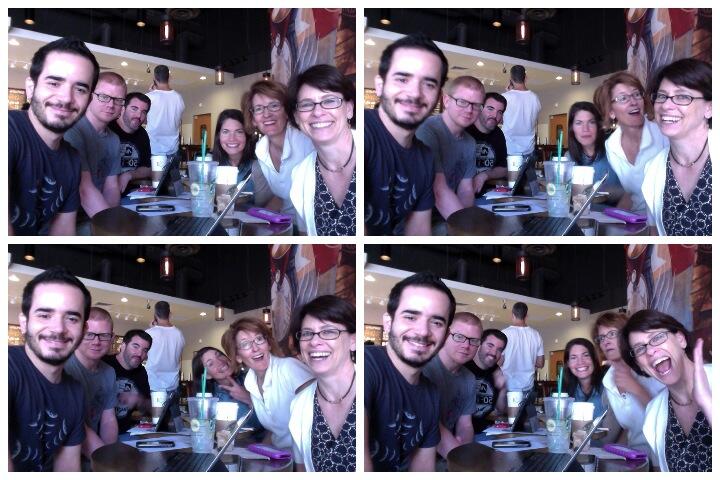 I enjoyed a
#coffeecue
today with several educators I know or have met through Twitter. We discussed many things about education, shared our favorite little tricks, and had a wonderful time getting to know each other. I was especially pleased at how well the PLAYDATE 13 idea was received. So well, in fact, that I am glad to announce the addition of two new members, Ryan Bradford and Moss Pike, to the leadership team. I look forward to working with them. It is so exciting to see things coming together!
We have been working on setting a date and securing a location. I spoke to the principal of my local high school, who was in favor of hosting the PLAYDATE, but it turns out we may not be able to do it there. The district is in the process of upgrading the wireless access across all the district schools, and there may not be any guest access until the project is complete, some time during the beginning of the 2013-14 school year. Obviously, not having guest wireless is not an option. I would still like to have the event at the school, since it is a venue I am familiar with and I know it will meet our needs. We are looking into the possibility of some kind of temporary wireless solution for out of district teachers, but we will also be considering alternate venues.
On the plus side, I have also gotten wonderful feedback from the teachers I have spoken to about the project, including Linda Yollis. If you don't know Linda, she is an excellent teacher and blogging guru. You can follow her on Twitter
@lindayollis
. She is excited about having a PLAYDATE in our area and may be available to help out. Fingers crossed!
PLAYDATE Los Angeles began as the final project for my 
Innovative Educator Advanced Studies Certificate
 program. The program culminates in each student creating a project that shares innovative technologies with a wider audience. After learning about PLAYDATEs on Twitter, I got very excited because I knew this was what I wanted to do. I can't tell you how often I have been introduced to something new and then not had the time to play with it so I could learn enough about it to actually do something with it. 
After deciding to move forward, I was speaking to
Jennifer
, who immediately signed on to the project. (Thanks, Jennifer!) We had our first meeting today and hammered out the initial details. We are going to be looking for a few more people to join the leadership team, and we need to finalize a date and a location. We have some tentative dates in mind, and are going to be conducting a Twitter poll to see which one might lead to better attendance. We are also going to need to find a corporate sponsor or two. All in good time.
We are thrilled to be embarking on this journey, and we hope you will join us!